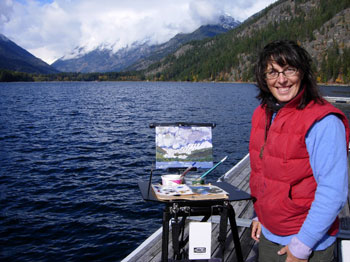 Heather A. Wallis Murphy painting at Stehekin, WA
October 2007
Note Cards by Wildlife Biologist & Artist in Leavenworth, Washington!
Hi and welcome to a peek into nature via watercolors and field journals. Please read on about Walleye Cards, Sketchbook Memories, the stores where they are available, as well as my field journal entries.
MORE INFORMATION...
---
A Short Biography:
Heather A. Wallis Murphy
Watercolor, pen & ink, nature journals

Contact: Heather A. Wallis Murphy
PO Box 818
Leavenworth, WA 98826
heather@wildtales.com
www.wildtales.com

Biography:
Heather is a Pacific Northwest notecard artist, watercolorist, nature writer and wildlife biologist. Her art education includes studies at the University of Washington and Wenatchee Valley Community College. She studied painting under L.A. artist Barbara Kerwin Wallis and New Zealand artist David Barker. Heather holds a Bachelor of Science degree from the UW in wildlife habitat management.
She retired from the U.S. Forest Service as a wildlife biologist in 2005; where her career spanned from 1974 to 2005. She is currently a consulting wildlife biologist. Heather was the autumn 2007 Artist-In-Residence for the North Cascades National Park at Stehekin WA. She presented "Wildlife and Art of National Forests" to the Smithsonian Institution's 2005 Folklife Festival in Washington D.C. Her monthly nature column "Wildtales Country Journal" ran in Country Pleasures Magazine (February to December 2003). Heather is a co-founder of Dancing With Birds, a project which connects migratory birds with the cultures of Latin American through science, art and dance.
Heather's artwork has been on display in Northwest art venues since 1997 at over 30 collaborative events. She teaches various nature journal classes each year; and has taught for North Cascades Institute, the University of Washington's Washington Park Arboretum, the Chelan-Douglas Land Trust, the North Cascades National Park and various conservation organizations. Heather has worked with students at the American School in Paris; and offered nature journaling programs at the Lochaber Natural History Society, in the Scottish Highlands. She has been featured in the traveling Inspirations From The Forest with the Smithsonian Institution (2006); in Women In Natural Resources magazine (Spring 2003); the Northwest Interpretive Association magazine (Spring 2002); and Greeting Card Writer online magazine (2001). Originals and reproductions of Heather's artwork inhabit her home studio in Leavenworth; and the Jeffrey Moose Gallery in Seattle.
Walleye Cards, Heather's naturalist notecard business, was founded in 1997. Find her notecards, postcards, bookmarks and journals in many Northwest stores or at wildtales.com website. In 2010 her notecards went onto the international website for migratory bird conservation, Environment for the America's at birdday.org . Heather attributes much of her success to her remarkable family and friends, above all her husband, Patrick Murphy. They live in Leavenworth, Washington's Icicle Valley in view of the Alpine Lakes Wilderness.
Artist's Statement:
"Influenced by the early explorer-scientists of America's west, I mix natural history notes with my watercolor field observations. The blending of science and art is intriguing to me as a wildlife biologist. I hope my artwork moves others to seek the out of doors, remembering a special time or place." – Heather A. Wallis Murphy
Walleye Cards Information Flier

copyright 1990 heather a. wallis murphy


WALLEYE CARDS
Heather A. Wallis Murphy
PO Box 818
Leavenworth, Washington 98826

Email: heather@wildtales.com


Website: wildtales.com
Walleye Cards (where did I get this name?)
My maiden name is "Wallis". While growing up as the youngest of the 5 "Wallis Girls", we were often called the "Walleye's". I used to make homemade cards when I was a kid, "Walleye Cards" was the logo I used then. Walleye is also a fish, native to lakes in the eastern part of North America. Thus the name "Walleye Cards" both honors my family and appeals to the wildlife biologist in me.
Wildtales (what is this?)

Wildtales, my registered website name since 1998, comes from my vision of recording stories from the wild. Be on the lookout for notecards, journals, stories, and books to come from Wildtales.com over the years.

Sketchbook Memories (what does this mean?)
My note cards are reproduced directly out of my field journal/sketchbook, which shows the spiral binder as a part of the card. This process is copyright protected.
---
---

---
Wholesale inquiries will be considered,
please contact me directly if interested.
Email: heather@wildtales.com
---
MORE INFORMATION...
---
Notecards, artwork, illustrations, stories and text by Heather A. Wallis Murphy, Wildlife Biologist, Artist & Nature Writer, in Leavenworth, Washington. All Artwork and Text is copyright protected by Heather A. Wallis Murphy © 1997 to 2011
INFO | NOTECARDS | POSTCARDS | BOOKMARKS | JOURNALS | COLOR PRINTS | ORDER
---
---